Dancing Mountains Diary
3 Day Sesshin
at Glastonbury, Somerset
With Ingen Breen
11th July 2015 to 13th July 2015
A f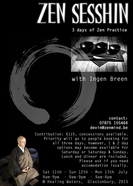 airly intensive three day sesshin (meditation retreat) with Ingen Breen, it is planned we will have formal meals in meditation.
The sesshin will be non-residential, although accomodation should be available on-site if desired. Retreat times will be:
11-13 July 2015 in Glastonbury
9am-9pm Saturday
9am-9pm Sunday
9am-4pm Monday
There will be no breakfast served, but there will be two oryoki meals on Saturday and Sunday and one on Monday.
There will be an opportunity to speak with the teacher in private.
£115
Concessions available
Contact Devin on: devin@dancingmountains.org.uk / 07875 155464 to book
Cost: £115
Angyu Devin Ashwood - devin@dancingmountains.org.uk - 07875 155464