Weekend at Trigonos Nantlle North Wales
Many of you will be aware that over the past few years a group of Dancing Mountains members have been actively working towards providing a clear working structure within which the sangha can develop and flourish. After Reb's 2010 retreat at Gaia House a small group met in November in Cheshire to modify and update the informal draft of the constitution from which the sangha had been working. This version, now outdated in our view, had been drafted as an 'interim,' working document during a meeting of four sangha members in 2008!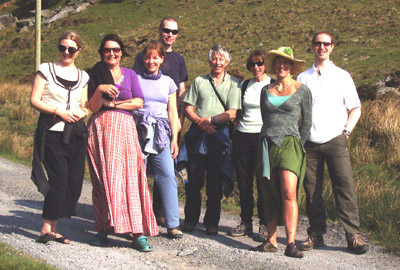 Frances Collins and Kath Bennett made us very welcome in Cheshire during the three-day meeting where we practiced together and had the wisdom and advice of Dene Donalds of the Order of Interbeing who has much experience in the area we were deliberating. As a result of this process Frances drafted a constitution based on that of 2008 along with extensive revisions based on her own research. This draft constitution was then circulated to the sangha and revisions and potential amendments were asked for some of these being incorporated. On Dene's advice it was also suggested that the sangha become a Community Interest Company in order to obtain the financial and organisational advantages of this structure. It was decided to hold a further practice/discussion weekend at Trigonos from 29 April to 3 May. Trigonos www.trigonos.org is set amidst the spectacular mountains of Snowdonia. The staff were very friendly and welcoming, the accommodation comfortable and the vegetarian food delicious.
Invitations to this meeting were sent to all DM members. The following accepted: Frances Collins, Kath Bennett, Chris Brown (NE) Gill Jackman, Devin Ashwood, Francoise Elvin, Michael Elsmere (SW). Lucie Minne, Michael's wife was also present but took no part in sangha discussions. Many thanks to Dene who once again took time from his busy schedule to be with us to offer advice and encouragement.
On the first evening a schedule was decided based around noble silence, zazen and kinhin with morning service and recorded dharma talk early in the day. We walked together in the mountains in the afternoon (many thanks to Kath for her leadership and map reading) also for putting up with the complaints of 'I didn't know it was this far! 'This a lot further than yesterday etc.' Debate and discussion around the organisational matters took place in the in the evenings. Sitting together in silence swiftly brought us the deep intimacy of sangha but a large group of artists who appeared on the second day I think found our silence at breakfast a little puzzling!
Working our way through the paragraphs and sub paragraphs of the new constitution provided an opportunity for the discussion of lots of views and preferences but we came to consensus around most of the major issues. This document is now being finalised and should be circulated to the wider sangha soon.
With the arrival of Dene we began to study the implications of being a Community Interest Company and looking at the advantages and disadvantages of such organisations. If sangha members are interested the main points relating to these structures may be found at www.charity-commission.gov.uk
Devin has drawn up the required Memorandum and Articles of Association for a Community Interest Company Limited by Guarantee based on a template on the Charity Commission website and this will be available to the wider sangha within the next couple of months. Potential amendments to such documents are limited as they are based on company law.
This was an intensive weekend of practice and discussion but we all left feeling that we had made considerable progress to our aims and objectives of nurturing the life of Dancing Mountains.
We were privileged once again to experience the strength, power and insight afforded by Buddha, dharma and sangha.
I wish to thank everyone in the Trigonos group for their commitment, energy and insights around these vital aspects of DM organisation.
Many thanks also once again to Dene Donalds of The Order of Interbeing for his generosity and for making the complicated and legalistic appear clear and attainable!
Thanks to Jo of Trigonos for the wonderful photo at the head of this article.
Back to front page