Introducing the new Mountain Silence
Welcome to this new electronic version of Mountain Silence! The vast majority of subscribers to this newsletter in the past have been receiving it in their email as a PDF document. In response to this, the idea was born to launch a fully email-compatible version of the newsletter with clickable links to online articles. We welcome your feedback on this new version and hope that it improves your experience of reading Mountain Silence. Click here to express your view on this new format.
Editorial
Mindfulness in Healthcare
by Ji Den Dai U
This edition focuses on the topic of Mindfulness. This is a hot topic in today's world with many interpretations of the word. Working within the NHS and teaching mindfulness-based approaches in healthcare, I bear witness to many interpretations which demonstrate an incomplete understanding of the term 'mindfulness.' There exists an incomplete understanding, often based on the developments within mainstream medicine and psychological services over the past 30 years. Read more...
March 2010 retreat at Gaia House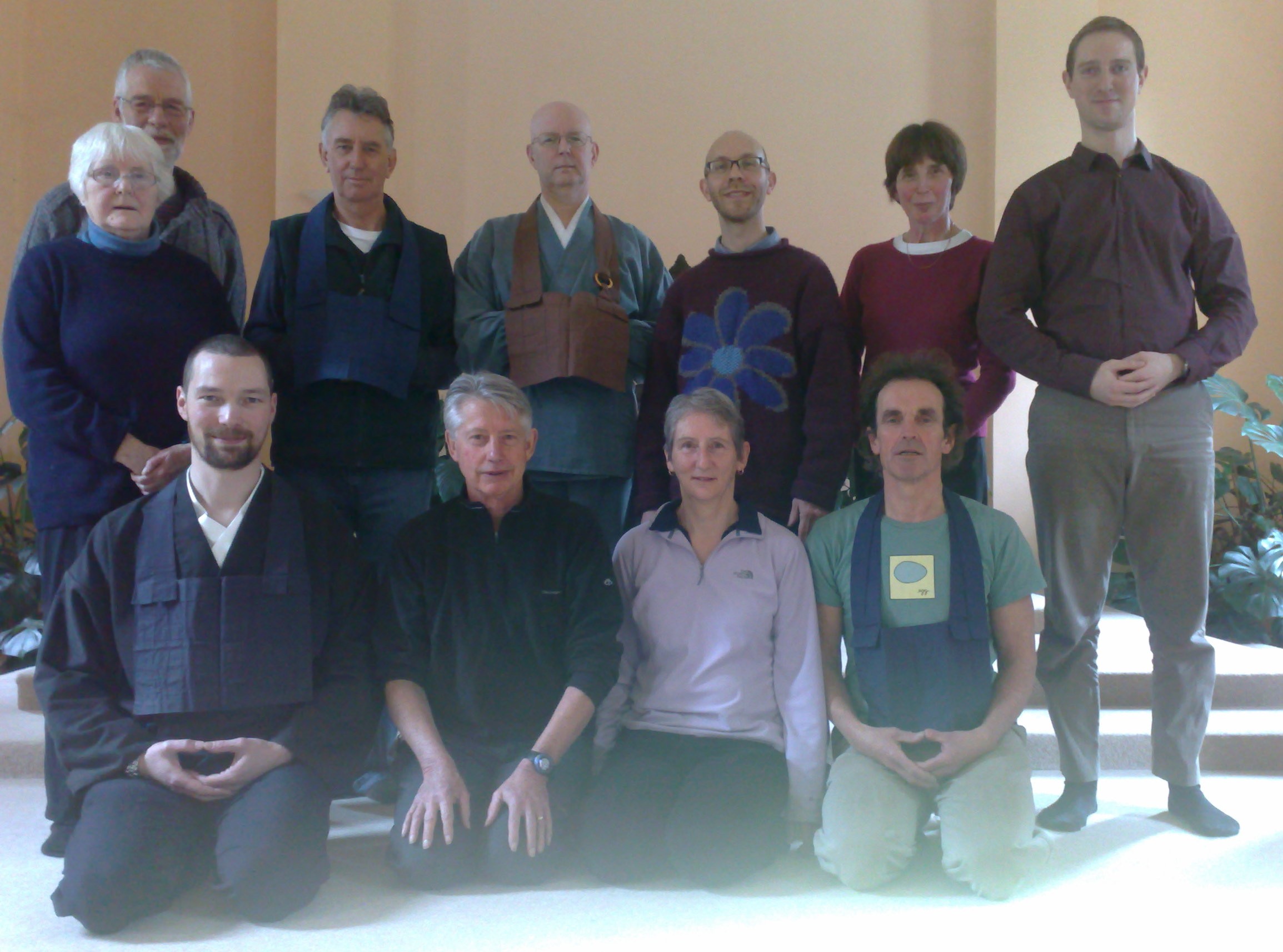 Reverand Myo Dennis Lahey, and ten retreat participants, after the retreat entitled "Just sitting: the Ten Oxherding Pictures" at Gaia House in March 2010.

Dharma Talk
The Five Faculties - cultivating the capacity for awareness
by Ryushin Paul Haller

Today I was talking to someone who had just turned 40 and who had discovered a few months ago that an old cancer, which was thought to be in remission, had metastasised to several places in the body, and it was necessary to go through a process of surgery, radiation and chemotherapy. This person is also a practitioner and so we were talking about what it is like to practice with that. I was struck by a sort of nobility in the human capacity in being able to respond to something like that with the wisdom and compassion that somehow brings out the best in us… that nobility. Read more...

News
Visit by Catherine Gammon of SFZC to our UK Sangha
by Michael Elsmere

Over the time since Reb's last retreat at Gaia House, Francis Checkley in Totnes has been pursuing with Roshi the possibility of having a priest in residence in the UK. Catherine Gammon has now very graciously offered to be with us for the period July to September this year. She has expressed her views and ideas of what she would like to offer during her stay (read on for details). Sangha members are requested to give her feedback on the proposals and also to give her ideas of their own. Catherine is open to travelling to other groups in the UK to offer teachings and support and would also welcome your proposals around this possibility. Read more for details of Catherine's proposals...

Green Gulch Farm, California

Rebecca, Myo Yu, and Charlotte at a beach near Green Gulch Farm during the January 2010 Intensive, led by teacher Tenshin Reb Anderson (Photo by Wendy Klein, who was also present).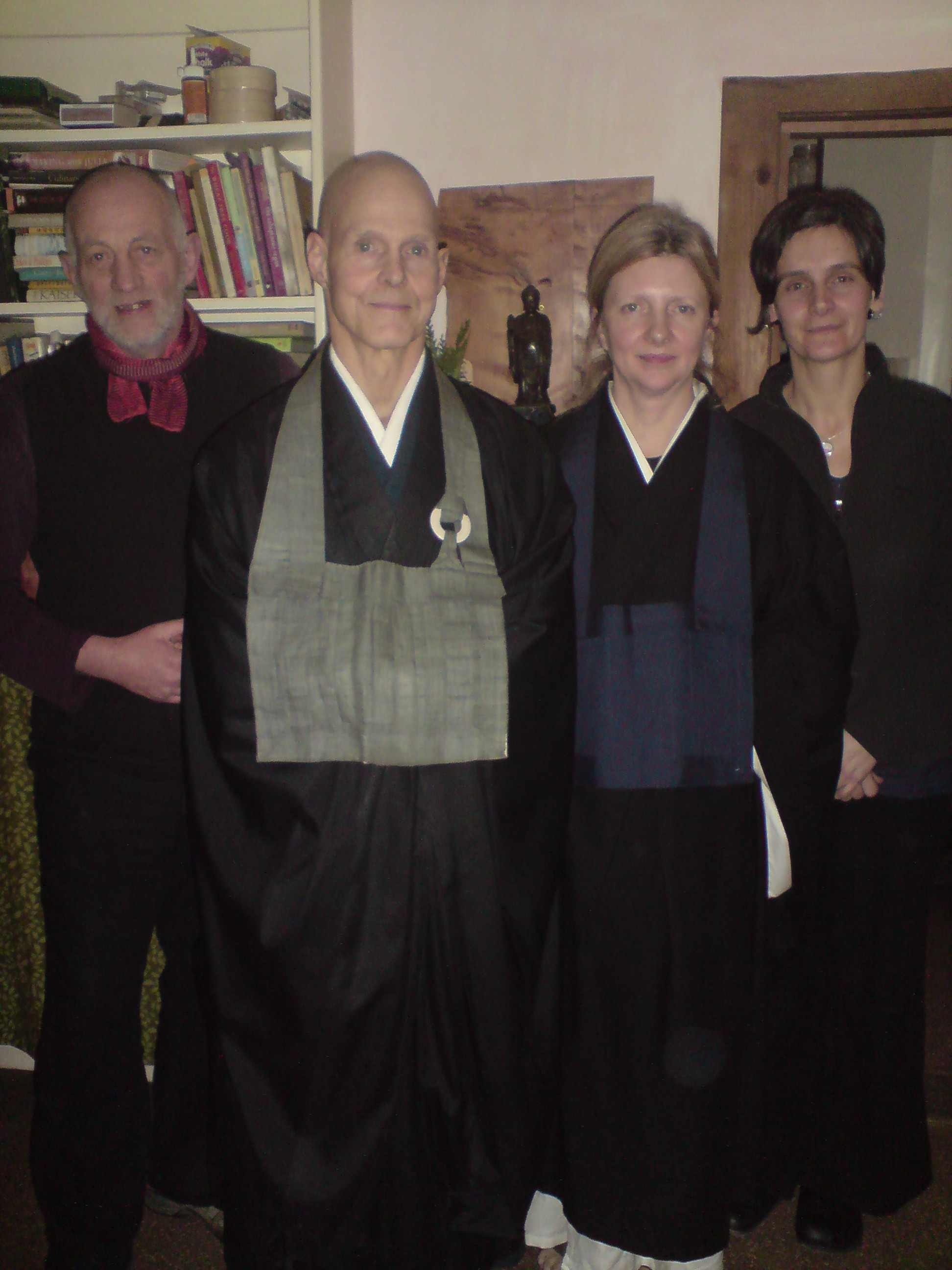 Myo Yu, Tenshin Reb Anderson, Frances Collins (Ji Den Dai U) and Rebecca at the January Intensive, pictured post-Jukai ceremony.

Next issue of Mountain Silence
Summer edition with a theme around "Sangha". Please send us accounts of your experiences of local Dancing Mountains sitting groups, and thoughts about plans for the future of our Sangha. We also welcome your articles, poetry, pictures, letters, retreat reflections and book reviews! Summer issue publication date: 30th June, deadline for submission of material 15th June.

Previous issues are available on the Dancing Mountains website.