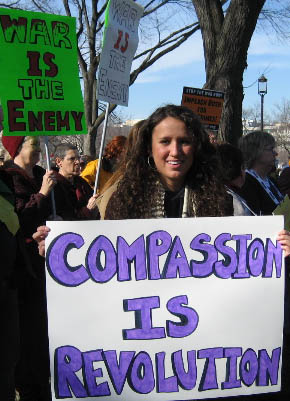 Image from 'The Jizo Chronicles'
Editorial
by Devin Ashwood
More than one article in this issue points out that 'engaged buddhism' is just buddhism. Particularly in the Mahayana tradition, working for the welfare of all sentient beings is emphasised but I don't know that the Theravada schools have not been doing this also.
Like many, I have worked and campaigned in the front lines in the market place; in human rights , animal welfare, ecological sustainability, social change for justice, health and transformation in prisons, addiction services, in the streets and on the internet. This lists a limited selection of the avenues in which many of us have sought to help ourselves and others since before practicing Buddhism. Some of us find we have expended less energy in the market place since starting committed practice but I don't know that we've caused any more harm or helped less as a result. Some of us have expended more energy in social activity since engaging in practise and I don't know this is a good or a bad thing. I remember intentionally moving away from certain direct action groups when I saw my own self-righteousness and anger reflected in others as we projected this in ways that seemed very harmful despite it being in the name of compassion and justice. Many evils are just people trying to do good in ignorant ways.
Practise not only helps to bring awareness to deluded action but transforms intention so although we may expend less energy when practicing, maybe the energy we do expend causes less harm and may even do some good.
I am very happy to support engaged Buddhism whether this takes the form of sitting still or people chaining themselves to railings; for without the encouragement and support to pay attention to our karma, to our motivation, we may unintentionally plant the seed for great evil in the middle of doing great works for good. As the Dharma talk by Reb Anderson Roshi in this issue suggests, it is this paying attention to our motivation that makes our engagement Buddhist.
There is still plenty of opportunity to get involved with sangha practice this summer. Although we are not now expecting to be inviting Paul Haller over at the end of the summer due to a lack of active support for this at this time, you can still come and engage with Dancing Mountains at the Trigonos retreat and meeting. For those of you who can't come, we will report back on important sangha developments in the next issue. Also Ingen Breen, a priest ordained by Norman Fischer who has been making connections with us will be leading a weekend in Hebden Bridge on June 25th. Diana Gerard is also still planning to come over and lead a range of events in the autumn. All this and you can even offer to help out with the running of the sangha by, for example, taking over editing the newsletter...? This is a wonderful opportunity that I thoroughly enjoy but wouldn't want to keep all to myself and there is so much else to take care of!
Dharma Talk
Intention Transforms The World
by Tenshin Reb Anderson Roshi
People are smiling which is nice to see. But I feel that I must say that I think we are all in pain, probably over the war in Iraq and the war in Lebanon and Israel. The whole situation around power and the struggle for power in this world often comes in the form of fuel, the struggle over it and also the effects of using it. Read more...
Article
Buddhist Chaplaincy
By Devin Ashwood
A little history may give some perspective to the work I engage with in prisons. In 1977, Ajahn Khemadhammo found himself in the old Hampstead Buddhist Vihara on Haverstock Hill after studying in Thailand for many years with the Venerable Ajahn Chah. Read more...
Article
Socially Engaged Buddhism
By Michael Elsemere
Socially Engaged Buddhism as practised in the West refers to Buddhists who are seeking ways to apply the insights from meditation practice and dharma teachings to situations of social, political, environmental and economic suffering and injustice. Read more...
Article
Non-Action Man
By Steve Roberts
It seems strange that anybody, not least someone of the stature of Thich Nhat Hanh, should have had to invent the concept of Engaged Buddhism. Read more...
Article
Pod Practice
By Wendy Klein
A number of years ago, when Dancing Mountains was a twinkle in everyone's eye, Reb spoke at one of the Gaia House post-retreat meetings of the importance of sangha pods Read more...
Book Review
12 Steps to a Compassionate Life by Karen Armstrong
By Michael Elsemere
In November 2007 Karen Armstrong an author and commentator on religion whose work I have long admired learned she had been awarded $100,000 prize by TED Read more...
Poetry
By Michael Elsemere
If you come at winter's end
To sit black robed in
tender silence. Read more...
Writing
Supported by Catherine Gammon
Pieces written in Stoke Ferry Church and elsewhere as a writing exercise guided by Catherine in August 2010...
Every cell, hard and cold. I hear I am called stone. Read more...
Next issue of Mountain Silence
The Summer edition will have a theme around "Love". We welcome your articles, poetry, pictures, letters, retreat reflections and book reviews! Summer issue publication date: 21st June, deadline for submission of material 1st June.