Events 2012
February 15 - 18
Retreat: Ingen Breen in Norfolk.
April 5 - 9
Retreat: Ingen Breen in Sweden
June 8 - 13
Retreat: Tenshin Reb Anderson Roshi in Sweden
June 15 - 24
Retreat: Tenshin Reb Anderson Roshi in Felsentor Switzerland
August
Major Dancing Mountains Retreat to be confirmed.
Visit the Diary for further details.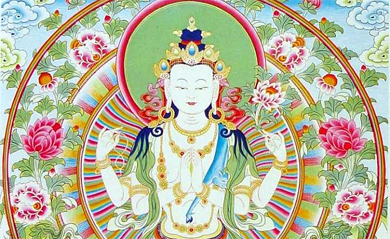 Chenrezig


Editorial
by Michael Elsmere
"Avalokiteshvara Bodhisattva is the Hearer of the Cries of the World. And one of the characteristics of Avalokiteshvara is that she manifests herself in accord with the circumstances. So she always presents herself in a form that's appropriate to what's going on. In the Bowery, she manifests as a bum. Tonight, in bar-rooms across the country, she'll manifest as a drunk or as a motorist on the highway, or as a fireman, or a physician, always responding in accord with the circumstances, in a form appropriate to the circumstances. How is that? Every time there's a stranded vehicle on the side of the road and a motorist stops to help Avalokiteshvara Bodhisattva has manifested herself. Those characteristics of wisdom and compassion are the characteristics of all beings. All Buddhas. We all have that potential. It's just a matter of awakening it. You awaken it by realizing there's no separation between self and other. Do not think of the bodhisattva as a being separate from yourself. When we see and hear the suffering of others and respond to that suffering, we are the heads and arms of the bodhisattva."
John Daido Lori (June 14, 1931 – October 9, 2009)
As our northern world slowly tilts into midwinter darkness in this sixteenth edition of Mountain Silence we explore the meaning of compassion, one of the four pillars of Buddhism. The original Sanskrit word is 'karuna,' which means 'active sympathy, gentle affection and a willingness to bear the pain of others'. When The Buddha was asked by one of his followers if compassion was a part of their practice.
"No," the Buddha answered. "The cultivation of compassion is all of our practice."
The quote by great western Buddhist teacher John Daido Loori heading this editorial perhaps captures the essence of the ideal of compassion. Avalokiteshvara Bodhisattva is not some ethereal presence out there, not separate from us; her potential expression is there wherever suffering is found.
One teacher recently also grounded the ideal very pragmatically when he advised; 'when you come upon a situation that leaves you bewildered, or questioning how you can help, ask yourself what would Avalokiteshvara (that is (I)) do here?' If we can do this; 'We are the heads and arms of the bodhisattva. By developing experientially these deep, powerful feelings of compassionate connection with others we may discern, however dimly, the subtle but beautiful reflections of universal interconnection that are symbolised by Indra's Net.
Despite the materialism that is so evident in our culture at this season there does glow in the depths of our being that human desire to be kind to each other. This light cannot be completely extinguished despite the global suffering we witness within us, through our relationships, and around us.
In Buddhist monasteries all over the world a Rohatsu Seshin is held between the1st and 8th of December. This celebrates Sakyamuni Buddha's enlightenment as he saw Venus, the morning star, arising at dawn after 40 hours of deep meditation. A potent reminder that even in the deepest darkness our essential Buddha nature can shine through as when we see another's suffering and alleviate it with skilful means.
_______
Dharma Talk
Continuous Compassion
By Reb Anderson Roshi
I'll begin with a story that I tell many times. It's a story that occurred supposedly in China maybe 1200 years ago. Read more...
Article
A few Thoughts on Compassion
By Francis Checkley, Anryu Ciu
Just to hear the word "Compassion" is evocative of noble actions, altruistic concern for others, charitable endeavours towards those who suffer physically, mentally or emotionally. Read More...
Article
Bhadrapala and the Radiant One – A Tale of Long Ago
By Kogan Muju
"It is wonderful, truly marvellous, how serene is the good Gotama's appearance, how clear and radiant his complexion, just as the golden jujube in autumn is clear and radiant, just as a palm-tree fruit just loosened from the stalk is clear and radiant, Read more...
Article
Upaya - Compassion in Action
By Ji Den Dai U
"Let me respectfully remind you:
Life and death are of supreme importance.
Time swiftly passes by and opportunity is lost.
Each of us should strive to awaken. Awaken!
Take heed! Do not squander your life...Read more...
Book Review
12 Steps to a Compassionate Life by Karen Armstrong
By Michael Elsmere
In November 2007 Karen Armstrong an author and commentator on religion whose work I have long admired learned she had been awarded $100,000 prize by TED Read more...
Sangha Update
Hebden Bridge Sangha
By Kate Bell
The Hebden Bridge Sangha continues to flourish and grow. We are still meeting twice a week and invariably welcome newcomers to the group on a Sunday evening. Read more...
Sangha Update
Dancing Mountains Zen Sangha (Totnes)
By Francis Anryu Chiu
As in life, Sangha is a continually changing phenomenon here in Totnes. We meet each Tuesday evening for two 30 minute periods of Zazen, walking meditation (kinhin) and chanting. Read more...
Teacher Interview
Ingen Breen - November 2011
By Michael Elsmere (Kogan Muju)
I'm walking towards the medieval courtyard of Dartington, Devon with Ingen Breen a teacher from San Francisco Zen Centre who is here in Totnes to hold two practice days with the local Dancing Mountains Sangha. Read more...
Poetry
The Call of the Sea
By Guido Montgomery
The sea is calling, I know what to do:
Go to her and give her my all.
For she is so loving, faithful and true,
I trust her to cherish my soul. Read more...
Poetry
Koan Wordplay
By Angyu Devin Ashwood
Is it this? Read more...
Final Words

Compassion

By Albert Einstein
A human being is part of the whole,
called by us Universe,
a part limited in time and space. Read more...
Next issue of Mountain Silence
The Spring edition will have a theme around "Devotion". We welcome your articles, poetry, pictures, letters, retreat reflections and book reviews! Spring issue publication date: 21st March, deadline for submission of material 1st March.