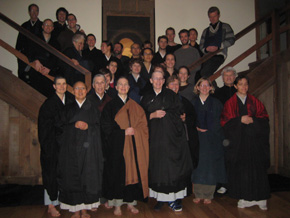 Image from Green Gulch Farm by Lucy Ellis


Editorial
by Devin Ashwood
Love. What to say of love? This issue begins with a dharma talk by Roshi Paul Haller inspired by the poem "Things I didn't know I loved" by Nazim Hikmet. The theme of love seems to have inspired the poets in our sangha as we have what I think is our largest issue yet!
There have been many sangha developments and this issue reflects on these. Although neither Roshis Reb nor Paul will be leading retreats on the mainland UK this year, we are working on arrangements for Reb to come in 2012. We have already been graced with a retreat led by Ingen Breen and will also have a repeat opportunity to sit a joint retreat with the Community of Interbeing in July.
In August, following in the tradition of inviting priests ordained by Reb to lead us, Diana Gerard will be offering a retreat in Wiltshire.
In summary, we are getting closer to incorporating as a Community Interest Company, which has some of the benefits of a charity and some of the benefits of a company. To this end, we are finalising a constitution and articles of association which outline the democratic structure and roles and responsibilities of the committee. There is still lots of opportunity to be involved, including website work, newsletter editorship, publicity, fundraising and retreat organising. So if you would like to see this lineage of Zen flourish, please join us. Contact details appear at the bottom of this page.
Dharma Talk
Things I Didn't Know I Loved
by Abbot Paul Haller Roshi
Each person's life, each person's journey, is amazing. I would like to talk about how amazing it is to be on life's journey, and how that can be a deep support for us. Read more...

Sangha Update
Weekend at Trigonos Nantlle North Wales
By Michael Elsmere
Many of you will be aware that over the past few years a group of Dancing Mountains members have been actively working towards providing a clear working structure within which the sangha can develop and flourish. Read more...
Retreat Report
Practice Period at Green Gulch
By Lucy Ellis
I've just got back to the UK after seven and a half months away. Last October I went to the eight week fall practice period at San Francisco Zen Center's Green Gulch Farm. Read more...
Retreat Report
Retreat with Paul Haller in Northern Ireland
By Chris & Clare Hannah
Attempts to secure a place on this retreat started us off into a world of wonderment. How does this work? What will it be like joining this community? What does this way of joining invite us into? Read more...
Sangha Update
Hebden Bridge group update
By Kate Bell
What started as a small group of friends meeting in a living room once a week to share sitting, laughter and cake has grown into an established Zen Sangha. Read more...
Poetry
This Love Thing
By Francoise Elvin
This love thing;
It's a tussle thing,
A hussle thing. Read more...

Poetry
Hearing the Dawn
By Rebecca Habergham
Love
knowing
being Read more...

Poetry
Love Sandwich
By Francoise Elvin
Caught: sandwiched between
Love and more love:
How can I resist? Read more...
Poetry
SPRING
By Lena Svensson
I step back;
Falling in love
is an explosion Read more...
Poetry
Calm and peaceful
By Catherine Thompson
The tide is coming in
The sun is setting but it's still warm
Lying raised on a rock, big but one of many Read more...
Creative Writing
I am a toaster
By Catherine Thompson
And I'm fed up of having crumbs in the bottom of me – it's irritating and
I'm sort of stuck in the corner Read more...
Book Review
Thich Nhat Hanh: Living Buddha Living Christ
By Michael Elsmere
Buddha and Jesus are two of the most influential spiritual teachers the world has known. Today centuries after their deaths both continue to shape the lives of many millions of followers. Read more...
Article
What is Love?
By Michael Elsmere
Love and biology
Is this love?
Love is an evolved state of the survival instinct Read more...
Article
Installing Love on the Human Computer
By Anon
Tech Support: Yes, how can I help you?
Customer: Well, after much consideration, I've decided to install Love. Can you guide me through the process Read more...
Article
Was Socrates a Buddhist?
By Anon
In ancient Greece (469 - 399 BC), Socrates was widely lauded for his wisdom.
Keep this philosophy (precept?) in mind the next time you hear or are about to repeat a rumor. Read more...
Next issue of Mountain Silence
The Autumn edition will have a theme around "The Four Noble Truths". We welcome your articles, poetry, pictures, letters, retreat reflections and book reviews! Autumn issue publication date: 21st September, deadline for submission of material 1st September.