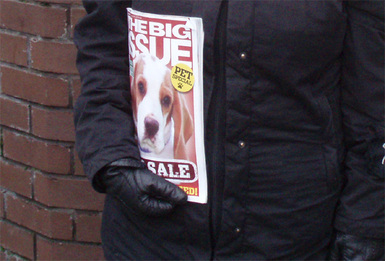 Big Issue seller
Editorial
By Devin Ashwood
2013 has been an important year for Dancing Mountains. Not only have we organised our first large, week long retreat with our teacher Reb Anderson Roshi, we have also completed the paper work to formally incorporate as a Community Interest Company and endorsed this at our Annual General Meeting. 2014 promises to be another big year as we are now beginning to have more teachers who are available and willing to lead retreats and practice periods, including Ingen Breen who will be in Hebden Bridge for three months during the spring to support the sangha.
We have titled this newsletter Social Action and have received articles on homelessness, a powerful theme this time of year as temperatures drop below freezing. It seems appropriate for Buddhists who practise in a tradition that has been passed on for thousands of years by intentionally homeless monks to embrace this issue. Can we now live the teachings of these wise teachers while remaining in our homes, taking care of our responsibilities as members of families and society and still reach out to those who live on the streets and others? Please take the time to consider the offerings presented in this newsletter and ask yourself, "what is an appropriate response?".
---
Article
Halloween Sesshin
By Ingen Breen
Dear Friends and Fellow Followers of the Way,

After a few hiccups we finalized a plan for the Halloween Sesshin at Hebden Bridge. It was a real joy to be on... Read more
Article
Halloween Sesshin Hope House, Hebden Bridge
By Sam Bartlett
The start of our new tenancy in Hope House was initiated with a 5 day retreat, led by Ingen Breen, who has been actively encouraging and supporting our practice here i... Read more
Event
Announcing our first Practice Period at Hebden Bridge
By Ingen Breen
We are pleased to announce a non-residential Practice Period at Hebden Bridge, led by Ingen. The Practice Period will commence on the Spring ... Read more
Creative Writing
Homelessness - Voicing Our Great Shame With Love For The Invisible Ones
By Ji Den Frances Collins
Our Dancing Mountains Board meets regularly by skype and as often as we can face to face to practice together. We have submitted all our official documents and await i... Read more
Writing
On meeting homelessness...
By Angyu Devin Ashwood
I can walk past people living on the street and tell myself "giving money might just feed a drug habit", "I'll give something to a homeless charity", "they don't want ... Read more
Writing
Are you willing to be homeless?
By Ko Gan Kath Bennett
Spending time reflecting and opening to the reality of homelessness, threads have appeared & somehow woven themselves in my mind.
Listening to Steve Stucky&rs... Read more
Poetry
On looking at a wall in Hope House
By Sue Kay
"A wall is a wall, is a wall" you say
Not necessarily so my friend, not necessarily so.
Walled in, walled out, walled up
See t... Read more
Poetry
Words don't reach
By Francis Checkley
Been check-mated,
struck dumb,
silenced,
stilled,
opened up,
turned around,
moved empty handed into a dark,dark night,
Gratitude ret... Read more
Creative Writing
Misconception
By Francoise Elvin
'Thanks so much for coming at short notice'
said a disciple to Avalokisheshvara Boddhisattva, as she
unpacked some things.
&lsq... Read more
Creative Writing
What are you doing?
By Francoise Elvin
'What are you doing?' Buddha asked Jesus as he was dying on the cross.
'I tried taking the blame.' He replied, but it didn't g... Read more
Article
Sewing support
By Angyu Devin Ashwood
We have a number of sangha members either considering sewing robes for ordination or are currently in the process of doing so. If you would like support in mak... Read more
---
Previous issues are available here