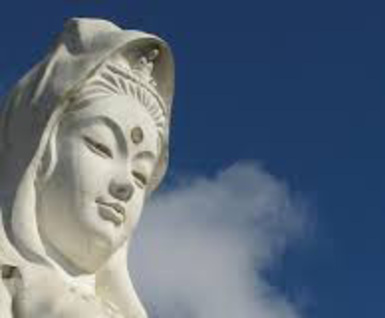 Kannon
Editorial
By Angyu Devin Ashwood
This issue announces the Dancing Mountains Annual General Meeting and retreat weekend, which has been an intimate and nurturing event in the past and we hope you can support us by coming along. We also offer details of another Rohasu sesshin, this time with Ingen Breen and David Haye, a wonderful opportunity to deepen practice together in this traditional re-enactment of the Buddha's enlightenment. We offered a Rohatsu last, two years ago and it was deeply appreciated by all who attended.
An important book review by Catherine, fascinating retreat report by Sue and contributions of some wonderful poetry and writing all make what may be the last Mountain Silence for a while well worth taking time out for.
I am stepping back as the coordinating editor of the newsletter and so far no-one has offered to step into these shoes, so until they do, I am sorry to say this quarterly publication will live up to its name and be truly silent! We hope you enjoy this last (for a while) Mountain Silence, may it find an auspicious re-birth in the not so distant future, when someone offers themselves to fill the void. It has been wonderful to facilitate this vehicle so far and I am happy to offer wholehearted support and guidance to anyone who is interested in breathing life into it once more.
with deep bows to all,
Angyu Devin Ashwood


---
Book Review
Notes on The Hidden Lamp
By Catherine Gammon
The new koan collection, The Hidden Lamp, edited by Zenshin Florence Caplow and Reigetsu Susan Moon, takes as ... Read more
Retreat Report
Joy and Jhanas
By Sue Blackmore
A strange thing has happened. I took a retreat that was utterly different from any I've been on before. I learned new skills, entered states I never knew existed... Read more
Poetry
Swan
By Chris Roe
Preening,
Soft, virgin white feathers,
Aware of my presence
But not of my world.

Before me, another world,<... Read more
Article
Dharma Ripples?
By Michael Elsmere
Old pond . . .
a frog leaps in
water's sound
Basso (1644-1694)
When does a retreat begin and when does it finish?
Already several weeks, ev... Read more
Article
A visit to Rinso-in
By Francis Checkley Anryu Chiu
We had been in Osaka for our daughter's wedding, when it occurred to us that perhaps Suzuki Roshi's temple may be in the vicinity. In fact, it was about three hours on... Read more
---
Previous issues are available here