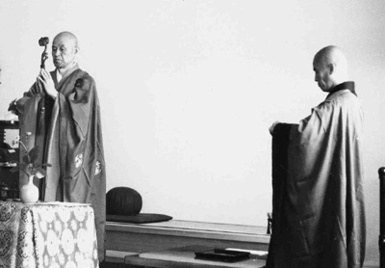 Zen Ritual
Editorial
By Angyu Devin Ashwood
This issue of Mountain Silence makes offerings on form and ritual in Zen. In the service of this, we have a talk by Roshi Reb Anderson, kindly transcribed by Frances highlighting the Bodhisattva initiation ceremony as a wonderful example of the essential quality of form to practice. Gill Jackman offers a view of form that liberates us from fundamentalism and Hilary reports from the wonderful retreat at Unstone Grange.
We have some unique events in the calendar now, with Catherine visiting and leading a number of retreats and workshops up and down the country, culminating in a long Rohatsu retreat lead by Ingen Breen from the 30th November to the 8th December (only one or two places left!) and some sewing support in Little Budworth!
We'd like to invite interest from people willing to transcribe audio talks for publication in this newsletter (and maybe even a book one day?). This is a great practice that really helps you to become intimate with the teaching. Email us if this is of interest to you.
---
Dharma Talk
Bodhisattva Initiation
By Reb Anderson Roshi
This afternoon we are planning to have a ceremony. It's an initiation ceremony for entering into the path of a Bodhisattva. A bodhis... Read more
Article
Form and Ritual in Zen
By Gill Jackman
I find it very interesting that many people are put off by the rituals of Zen. Apart, of course, from the bowing and the prostration... Read more
Article
Unstone Grange retreat
By Hilary Heriz-Smith
The Unstone Grange retreat held from 3rd-7th August this summer felt like a very special event, like the moment a fledgling succeeds in taking flight for the first tim... Read more
---
Previous issues are available here