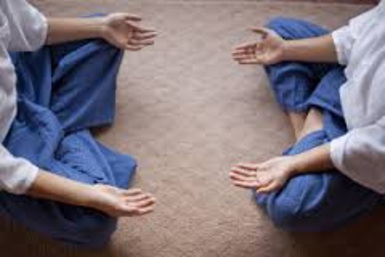 Sitting face to face
Editorial
By Karen Reddy
My personal understanding of our Soto Zen in the lineage of Shunryu Suzuki is Zazan, Kinhin and face to face with teachers. For me having face to face teacher contact is something I haven't been able to make available regularly, but soto zen feels available. How? The committed local Sangha facilitators, who offer a weekly, Bi weekly, monthly or occasional sits to all. Their and your practice is alive and most welcome.
I feel this edition offers us access to different expressions of practice. Our friend Myoyu accepted an invitation to write and has an offering of beautiful and amusing rambling of Zen and life at San Francisco Zen Centre. An invitation to Ingen, in a year of an anniversary, treats us to memories of Jukai, bringing us right up to date. Paddy offers a warm and honest insight, on finding a teacher. Gill shares an acknowledgement "I couldn't have done it on my own" and sharing from Steve of what came to the open door on a first retreat.
2015 brought us the joys of Grandmother Energy. We were able to welcome Catherine Gammon who travelled around our UK Sangha and I feel swept sweetness through with her. Thank you to Catherine and to all involved who made this visit possible.
August 2015 brought the opportunity for sangha to attend a retreat with beloved Reb Anderson in Sweden. We would love to hear from those who were able to attend, please send in your retreat experiences! Also with great appreciation, we offer our thanks to the European Sangha for their efforts in making this event possible.
This issue is a summer and autumn offering, despatched to you later than anticipated, the saying "best laid plans..." comes to mind. The delay was due to new challenges, but reaching out to a few brought an abundance of help and compassion. I offer if anyone is in need, let others know, they truly want to be in the now with you. Take a peek at committee news, information from the 2015 AGM, news of registering for fundraising (So lovely to be searching for our own property, who knows what could come our way).
A date to note for your diary is May 6th-8th 2016. This will be a group facilitators training, and chance to have your input on the direction of Dancing Mountains CIC. Theme and Venue to be confirmed, remember we welcome your ideas. It will be a weekend of practice training, finishing with a short Dancing Mountains Annual General Meeting.
As you receive this edition, I drop the seed of sharing, I`d love to hear from you, until then, carry on reading, and connect a little more.


---
Sangha Update
Chairs report from Annual General Meeting: The Annual General Meeting Report
By Angyu Devin and Ji Den Frances
REPORT BY CO-CHAIR PERSONS DANCING MOUNTAINS AGM 19th April 2015
Devin Ashwood & Frances Collins

Between October 2013 and April 2015, Dancing Mount... Read more
Sangha Update
Annual General Meeting Minutes
By Kath Bennett
Annual General Meeting of Dancing Mountains Zen Community Interest Company
Held at Sandymount, Crosby, Merseyside
Sunday 19 April October, 2015
The boar... Read more
Teacher Interview
Jukai
By Ingen Breen
Jukai

Tassajara was cold, sometimes 20 below, F, and the river full. The water sounded like a waterfall, thunderous, roaring, and wherever you went there wa... Read more
Retreat Report
Ingen's report from the Group Facilitators weekend
By Ingen Breen
So the weekend that had been in the pipeline since early last year eventually came to pass. Last year I could see the importance of the event and was a little disappoi... Read more
Article
Paths and Gates
By Ingen Breen
"To have some deep feeling about Buddhism is not the point, we just do what we should do, like eating supper and going to bed. This is Buddhism." ... Read more
Sangha Update
Local Sangha News
By Bev Eatwell
Brighton

Saturday 13th June saw another one day sit for the Dancing Mountains Brighton sangha. The day was hosted as usual at Chris and Clare Hannah's... Read more
Sangha Update
Update from Glastonbury
By Angyu Devin
Hello from the Glastonbury sangha. Our weekly meeting is going from strength to strength, despite two other similar Zen style groups now running on the same nigh... Read more
Article
An emerging centre project in Somerset
By Angyu Devin Ashwood
Inspired by a wish to create practice opportunities and live in a way more congruent with our values, a Bev, her partner Gez, Nicky and I have started to explore possi... Read more
Article
Letter from Bloomin Zen
By Myoyu
Hello good folk of the Albion,

I guess I should come straight out and tell you that this is hoped to be an ongoing look into the journey this one is taking ... Read more
Writing
Sewing my rakasu (or should that be Rakasu?) I Can't Do It
By Gill Jackman
Sewing my rakasu (or should that be Rakasu?)
I Can't Do It


I have deep psychological scars. That's why I trained to be a psychotherapist. Through... Read more
Poetry
Summers Calling
By Karen Reddy
the sky is showing blue, the sun is shining high and there`s a warmth
to the air. Nature breaths aloud. How I love having senses


...
Read more
Poetry
Haiku
By Guido Montgomery
In the cool dusk breeze
we walked backwards on the beach
Venus our witness
...
Read more
Retreat Report
First expereince
By Steve Muir
Thank you Karen for inviting me to write about my experience at the weekend retreat in Crosby with Dancing Mountains Sangha. I might have had some expectations or noti... Read more
Article
Finding my teacher
By Paddy
Finding my teacher

To paraphrase the Oracle in The Matrix talking to Neo about being the one - "(finding the one) is like being in love – ... Read more
Poetry
It is what
By Philip Harris
The realisation that we already
have it is effortful.
The realisation that we already
have it is not it.
It is you, whether we realise
it or n... Read more
Sangha Update
National Future Fund Raising
By Chris Brown
DM is now registered with Government Funding Central. Just to let you know I've registered on Funding Central now, and will forward any interesting funding alert... Read more
Sangha Update
Future date for diary
By Dancing Mountains Committee
Looking a head and hoping to give every opportunity to all to attend, a date for your diary: 6-8th May 2016. A weekend retreat that will be an opportunity for group fa... Read more
---
Previous issues are available here