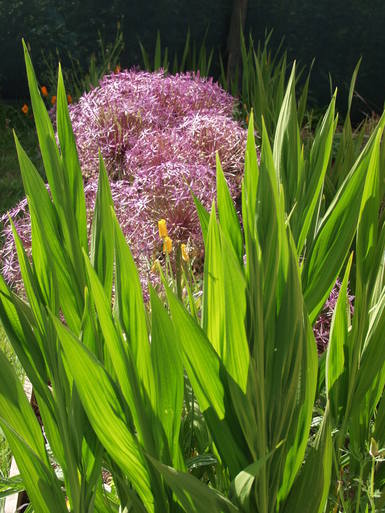 The Force that Through Green Fuse Drives
Editorial
By Michael-Kogan Muju
This is the Spring issue of Mountain Silence with a new editor and the equinox bringing light and energy back to our northern hemisphere so we had looked forward to an issue bursting with your contributions. It seems however that the sangha has been locked into the winter darkness or else the ceaseless rain and wind has dampened the imagination so there are a dearth of articles in this issue. This has led to some discussion on the board about the future of the newsletter, whether it should be a wide ranging ' magazine' type publication as our past issues with your articles, opinions, stories, poems, photos and letters. If this is not possible perhaps we should instead consider publishing a 'thinned down,' publication with news of events such as sesshin and other sittings and summarising important developments within the sangha. Another idea I have had is that rather than just an editor there should be an editorial team of three or four people that would ensure that for one/two years Mountain Silence would remain a lively,colouful and thought provoking read. Maybe a different sangha would be prepared to take on the responsibility for this after every few issues? I would welcome your views, proposals and ideas. For me Mountain Silence is an important part of Dancing Mountains but I have never considered it has fulfilled its potential. Unusually as editor I have no idea how much it is read or appreciated by sangha members, the wider sangha or our online readers. Again some feedback from you would be good.

I do not wish to give the impression that with the lack of 'news,' nothing has been happening within the sangha. Far from it. Through last autumn and winter the dharma has been bubbling up and refreshing all with life and vigour. Tenshin Reb Anderson's second retreat in Sweden was, I have heard from many participants, a deep and inspiring experience energising all sitting in Suzuki Roshi's lineage across Europe. Zenvagen is superb setting quite isolated in the midst of the deep Swedish forest. If you haven't already attended one of these retreats I would urge you to go if at all possible. Invitations have recently been sent out. If you haven't received one and are a part of the sangha go to rebineurope@gmail.com Quite apart from major events such as this there have been a number of sittings across UK and Ireland many supported and led by Ingen Breen. It feels to me that there is after many years of slow green growth a real blossoming of the dharma in our midst in which so many have participated. Devin has written an article that describes the new and significant possibility of priest training that will take place here in UK over the next few years and I feel certain that this is a major step in ensuring the future of Dancing Mountains Sangha and the lineage of Shogaku Shunryu Suzuki in the UK and Ireland for many years to come.
---
Article
Priest Training With Tenshin Reb Anderson
By Angyu Devin Ashwood

Last summer, Rebecca, Bev and I all spoke to Tenshin Roshi (Reb Anderson Roshi) about our wish to ordain as priests in the lineage of Suzuki Roshi. As far ... Read more
Article
Zen's Chinese heritage
By Michael
Since Tenshin Reb Anderson's inspiring talks in his 2014 retreat in Fyllingbo, Sweden concerning our fourth Chinese ancestor Dayi Daoxin I have read more w... Read more
Article
DM Members' Spending Survey 2016
By Chris Brown DM Treasurer
• We conducted a brief survey of Dancing Mountains members to help in making decisions about how to direct our financial resources in 2016. Respondents (13 in tot... Read more
Article
A Virtual Practice Period
By Michael Kogan Muju
During the weeks in January 2016 when the January practice period was held in Green Gulch Zen Farm in California Wendy Klein based in Cambridge UK once again initiated... Read more
Article
Calligraphy
By Josh Zatz Joyous Devotion Silent Light
Josh Zatz has been studying the ancient Eastern practice of calligraphy and offers these images at the head of several articles as the result of his early work.
...
Read more
Article
Dancing Mountains and Branching Streams
By Editor
Recently we were invited to join Branching Streams an organisation within San Francisco Zen Centre that supports their outlying sangha both in the USA and internationa... Read more
Article
Stop press news
By Editor
To all readers please note that the Facilitators Support and Training Retreat is now planned for the weekend of 22/23 October 2016 this had previously been planned to ... Read more
---
Previous issues are available here